This past Saturday, I stumbled upon Cooking Light magazine while shopping at our local Target.  I've made plenty of recipes from their website in the past, but never took a good look at the magazine itself. From their "About Us" page on their website: Cooking Light is a long-established health, nutrition, and fitness authority that inspires readers to eat smart, be fit, and live well. Sounds like my kind of publication.
It was perhaps on my brain since Erin told me about her plans to make the recipe for Indian-Style Tofu and Cauliflower with Chutney featured in the April 2010 issue. But I was sold once I saw the recipe for Coconut-Macadamia Nut Cookies: I found my new cooking magazine of choice. So long Everyday with Rachel Ray!  You were good while you lasted…
While perusing the website, I came across their list of 25 Most Common Cooking Mistakes. I am totally guilty of several of these, but these were my top five offenses:
1. You don't taste as you go.
Recipes don't always call for the "right" amount of seasoning, cooking times are estimates, and results vary depending on your ingredients, your stove, altitude…and a million other factors. Your palate is the control factor.
Considering I make this mistake pretty frequently, I've been pretty lucky and haven't wrecked too many meals because of it. I tend to stay away from over-seasoning, but in my efforts to reduce our sodium intake, I'll end up with a pasta toss everyone once in awhile that I wished I tried before it got to my plate.
8. You don't know your oven's quirks and idiosyncrasies.
I have a love/hate relationship with my main mode of cooking. More the stovetop than oven, I have an electric glass top stove. Oh, what I would give to run a gas line and put one of these bad boys in my kitchen: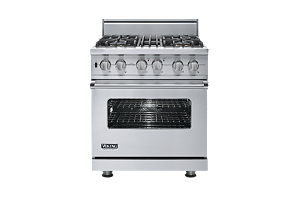 That's a Viking 36″ Custom Sealed Burner Range with four burners and 12″ wide char-grill. Some women dream of diamonds. I dream of indoor grilling.
I love this tip from the article for testing your oven: SaBrina Bone, who tests in our kitchen, advises the "bread test:" Arrange bread slices to cover the middle oven rack. Bake at 350° for a few minutes, and see which slices get singed―their location marks your oven's hot spot(s). If you know you have a hot spot in, say, the back left corner, avoid putting pans in that location, or rotate accordingly.
18. You try to rush the cooking of caramelized onions.
If you saw my pierogi making post, you know I love me some caramelized onions. However, I am seriously impatient when it comes to cooking. I'm surprised I have ever used my slow cooker at all. For real caramelized onions (and not just sautéed ones):
Cook them over medium-low to low heat for a long time, maybe up to an hour. If you crank the heat and try to speed up the process, you'll get a different product… lacking that characteristic translucence and meltingly tender quality you want.
23. You pop meat straight from the fridge into the oven or onto the grill.
The result: Food cooks unevenly: The outside is overdone, the inside rare or raw. Meats will cook much more evenly if you allow them to stand at room temperature for 15 to 30 minutes to take the chill off.
GUILTY AS CHARGED. Remember my lovely character trait I just mentioned?  When I'm ready to grill, not only do I rush the meat to the grill, I rush it on the grill, cooking too fast at too high of a temperature. Bobby Flay would be very upset with me.
Alicia: why would you not follow my excellent grilling advice? Now I must attack you Iron Chef style with this concrete mixer that I am using to puree turnips. Once the weather breaks for good, I hope to let myself and my food relax before and during the grilling process.
24. You don't know when to abandon ship and start over.
I have a serious problem with wasting food. I get SO MAD when I let produce spoils before I can use it.  But life is too short to eat bad food, my friends. As the article points out, "the best practice is to 'fess up, apologize, pass the wine, and move on." 
SOMETHING TO LOOK FORWARD TO: I won a $25 gift certificate to Bucci's Brick Oven in Middleburg Heights from Cleveland Independents Facebook giveaway. A restaurant review is on the way!